Kevin Mendez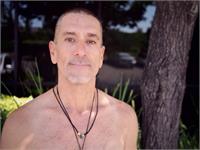 I took my first Bikram yoga class in August 2012. I was not exactly hooked on it. It was hot, it was humid. By the time the class was on the floor, I was looking toward the door. I wasn't sure if it was me. I had no idea what I was walking into, did no studying. I did no research. I took my second class the very next next day. It was on the advice of the teachers, and it wasn't any better than the first. It took about ten classes or so to see and feel the benefits.
I am a carpet cleaner by trade and have had multiple back and repetitive motion issues. This practice has saved my back, my job, and it gave me freedom of movement. So I found myself practicing 6 to 7 days a week. I was hooked!(and still am). I completed my RYS 200 Yoga Alliance teacher training in 2015. To see positive change and growth in myself and others is a beautiful thing.
Kevin Mendez is currently not instructing any classes.